High Quality
About EU Beef and Lamb Production
Livestock production across the European Union relies heavily on fresh grass and conserved grass (silage/hay). Europe with its relatively small to medium sized family farms and limited space lacks the vast industrial feedlots that are prevalent in other countries where intense corporate farming is the norm. Instead, in the EU cattle may graze outdoors for all or most of their lives. This is the animal's natural environment where they can best express their natural behaviour which is of paramount importance to the farmers who raise them and the consumers who eat the beef and lamb.
Grazing is most commonly practiced in the main cattle rearing countries of the EU, including Ireland, where the climate is milder and conducive to grass growth for up to 300 days of the year.
In many member states of the Union, especially in mountainous regions, there are long practiced grazing traditions – "transhumance practices"- where herds migrate from one grazing ground to another in a seasonal cycle typically to the lowlands in winter and highlands in summer.
In the West of Ireland where the climate is particularly mild and favourable to grass growth this practice is reversed where some farmers move their cattle up to the higher plateau to graze over the winter. These limestone plateaus are measurably warmer when compared to the lowlands. The proximity of ample grass, a dry lying area, and plentiful water provides a very good grazing environment for the cattle. The grass itself grows alongside many wild herbs, some of which the cattle eat, improving their general health and the quality of the beef.
Enjoy it's from europe
The European Union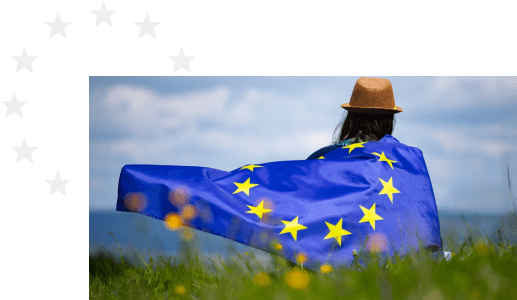 The European Union is a unique economic & political union between 27 European countries that covers most of the continent.
The single market, also known as the internal market, was created in 1992. This refers to the EU as a single territory without any internal borders or obstacles to the free movement of goods, services & people. It has fuelled economic growth and made everyday life of European businesses and consumers easier.
Ireland is located in the western part of Europe bound by the Atlantic Ocean and the Irish Sea.
From Nature to you
The joy of nature brought about by the best environment
Happy eating
Beef & Lamb recipes